Issue 1 of our new exclusive Adopters newsletter was launched in July, and has gone down a storm with members.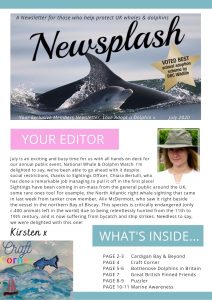 Jam-packed more than ever with features, news and articles for everyone!
Marine Awareness is perfect for those who want to challenge themselves and learn about marine environmental matters going on worldwide. Cardigan Bay and Beyond is ideal for members to catch up with their dolphin. The Wildlife Man in New Quay, is a new feature to the newsletter, and highlights the life of local wildlife enthusiast, Josh Pedley, who also works for Dolphin Spotting Boat Trips as a Wildlife Guide. Crafty Corner is perfect for those who like to use arts and crafts to express themselves, and, Great British Finned Friends, is a summary of what's been seen around the UK that month, and consists of a large illustrated map and handy monthly video!!
If you want to receive the new Newsplash every month, then sign up today by adopting a dolphin for just £3.50 per month!
https://www.adoptadolphin.org.uk/adopt-a-uk-dolphin/?who=voldemort