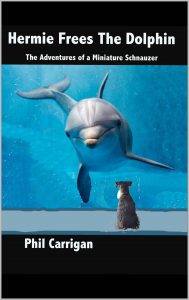 This months Craft Corner in our Newsplash newsletter featured a black and white painting of a miniature schnautzer called Hermie.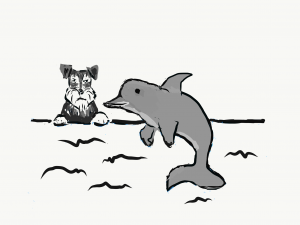 Now, Hermie is a very special kind of a chap who lives in Polperro, East Cornwall with his mum and 'Father!' In fact, Hermie is SO special he is becoming quite famous and is featured in an ever increasing number of children's books. The newest one to hit the shelves is, 'Hermie Frees the Dolphin', which features 'Freedom', the bottlenose dolphin of Looe Bay. Looe is in East Cornwall, and Cornwall has a resident group of bottlenose dolphins. Photo ID is being carried out in the area to enable us to monitor and better protect them, just like our Cardigan Bay gang!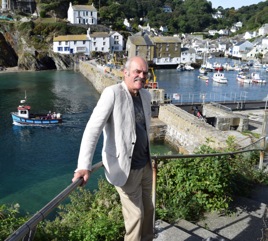 Hermie Frees the Dolphin, is one of a series of five from the series known as, 'The Adventures of a Miniature Schnautzer'. Author, Phil Carrigan, lives in Polperro, East Cornwall, and sometimes includes some of the interesting local characters and places in his books for children. Phil has also narrated all his books, so each one includes an audiobook on CD and for only £6.99!!
Here's a bit about the book;
During a visit to an aquarium, Hermie and Father make friends with a dolphin, who is soon to be given his freedom. Soon after his release, Hermie notices Freedom has become caught in an old fishing net.  Hermie and Father set sail in their little boat to try to rescue him.
Visit www.adoptadolphin.org.uk/product/hermie-frees-dolphin/ to find out more about Hermie Frees the Dolphin, and how to order.