We love nothing more than spending time with our Finned Friends, and also our younger two-legged ones!
Llanarth Primary School visited us very recently for their end of term celebrations and to get closer to the dolphins!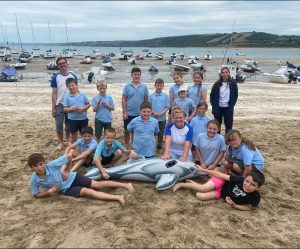 Firstly, we started with a presentation to the group and told them all about Sea Watch Foundaion, why we exist, what we do, and why. Children usually love taking in new information, especially when it's about animals, so there were no problems with this first exercise!
After a short break, we then headed out to the pier to have a go at landwatch (a method of gathering important data about the dolphins around at the time from land rather than from a boat).  Well, this didn't disappoint! The children watched and took on all the new information like sponges!  Many questions were asked about our semi-resident pod, and more discussion followed.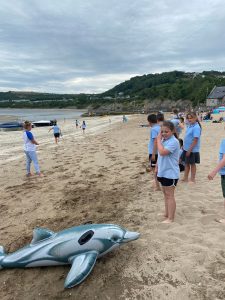 And what would a sunny day be without a visit to the beach! So, in the afternoon off we went for lots of activities and games, including a stranded cetacean workshop.
Thanks for coming to visit Dolphin Defenders, and please take your new-found knowledge forewards to others !