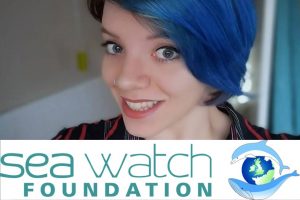 Hi All, My name is Chantelle Green, and I will be shaving my head before the end of May, to raise as much money as possible for the Sea Watch Foundation, where I am currently voluntarily interning.  If you would like to support me please click here.
Sea Watch is a non-profit organisation dedicated to protecting dolphins, whales and porpoises in British and Irish waters which is made possible by the help of volunteers all over the country.
Sea Watch will use your donation to help fund research, refurbish our education centre to make it ready for the public and provide us with the ability to give educational events to schools and host events for the public such as beach cleans.
Any donation will help the foundation greatly, and I would like to thank you in advance for helping us reach our target. My hair has always been super precious to me, and it was scary enough getting it cut off from its length to a bob, so going even shorter will be scarier still, making your donations mean all the more!
Thanks everyone, and to donate please visit:
https://www.gofundme.com/going-bald-for-the-bottlenose?fbclid=IwAR3Rjf6ZwASNudymh-h3dVHe-4N9l4gVn_3MypH_0CdRqDlZ68Dsvq8y3Rg