39 days to go until our annual Orca Watch event!
Who will be joining us this year? 👀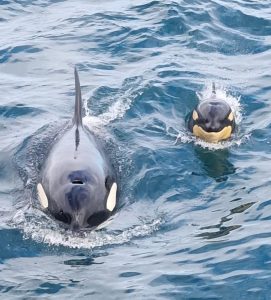 Orca Watch is one of our two citizen science events (NWDW is the other one). Running over ten days, the aim of Orca Watch is to collect as much data as possible on the whales, dolphins and porpoises in the waters around Caithness and North Sutherland, Orkney and Shetland. Among the species we regularly see are harbour porpoise and minke whales, as well as that iconic top-predator, the killer whale or orca, the species for whom Orca Watch was originally set up. (See below.) Risso's and common dolphin may also make an appearance, and there are always seals!
Our base for the event is at John O'Groats, but watches take place all around the Orca Watch area, both from land and from the John O'Groats passenger ferry. Everyone is welcome to take part in the event (subject to any Covid-19 or related restrictions in place) to help us collect data or simply to look out for whales, dolphins and porpoises.
We also hope to hold our popular evening of Orca-related themed talks, as well as smaller events throughout the week.
To get a feel for the event, check out our Sea Watcher channel on YouTube, where you can watch the programmes we put on for Orca Watch 2021. And click here to see the Orca Watch Facts: https://www.seawatchfoundation.org.uk/23930-2/