Calling all young citizen scientists! National Whale and Dolphin Watch is just one month away, from 29th July to 6th August. This is your chance to contribute to vital cetacean research and help dolphins by recording your sightings of whales, dolphins, and porpoises in UK waters.
 BBC Springwatch and National Whale & Dolphin Watch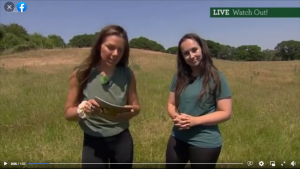 https://www.facebook.com/seawatchfoundation/posts/pfbid02xB9ajnWyx59c2fLphzoprE5czvwByeNKWmqtJ1YL3HzkmhLfCkr124MEMtQcFwfTl
As you know, cetaceans are important indicators of the health of our oceans. By collecting information on their distribution and abundance, we can track changes in their populations over time and identify areas where they are most at risk. This information can then be used to help conservation projects and protect these amazing creatures for future generations.
To take part in National Whale and Dolphin Watch, all you need to do is go for a coastal walk, sit on a headland or take a boat trip and keep an eye out for cetaceans. If you see any, you can record your sighting on our website using our simple online form or using our free SeaWatcher app. Just type in the name SeaWatcher into the Apple store (if you have an iPhone) or in Google Play if you have an android phone.
Your sightings will be added to a national database that is used by scientists and conservationists to track cetacean populations. Even if you don't see any cetaceans, your report showing none is still valuable to us. Every bit of information helps us to build a better picture of cetacean populations in UK waters.
So, why not get out there or, alternatively, come to New Quay and make use of your dolphin vouchers this summer!