Well known UK whale and dolphin monitoring and conservation charity, Sea Watch Foundation, is making waves in Cornwall, with their plans being to run outreach events and set up information boards around the Cornish coast.
After London-based Producer and Creative Administrator of Adopt a Dolphin, Kirsten Hintner, moved to Looe, two years ago, she has been working on developing relationships and links with key Cornish people to help spread the word about marine mammal conservation in the south-west. One of the charity's aims is to have some twenty information boards produced and sited in popular West Country coastal towns, so that locals and visitors can learn more about what whales and dolphins can be seen in their area and how to better protect and conserve them. After a lucky-chance meeting with Polperro businessman, Chris Dauncey of Kitt Hill, who donated £500 towards their very first board, and also on receiving a donation from Polperro-based author and conductor of the Polperro Fisherman's Choir, Phil Carrigan, their plans could begin! Supported by Polperro Harbour Master, Oliver Puckey, Kirsten was able to move ahead with getting their first board made-up and sited in place on Polperro harbour this summer.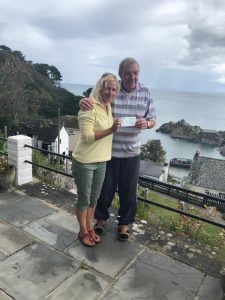 Chris Dauncey Donates £500Kirsten says, "In pre-covid times, every year many thousands of British tourists leave the UK for a 'holiday of a lifetime' – and for some, at the top of their 'must do' list will be a whale or dolphin watching trip. And yet many people are totally unaware that around the UK on any day of the year there is a fine selection of cetaceans to be seen – 12 regularly recorded species and up to 30 recorded in UK & Irish waters. Granted, the seas may not be as clear and tropical, and the weather may not always be as balmy as the Caribbean, Indian Ocean, or Florida, but the south-west, can hold its own in the world's top places for viewing dolphins – and you don't even need to be on a boat!"
 Just last week, Kirsten was aboard Polperro Bay Coastal Trips with Ollie Puckey, talking to visitors about the local wildlife, when they came across the juvenile humpback whale that had been seen the previous day in Plymouth Sound in amongst the yacht race! This whale had been watched and enjoyed by hundreds of walkers over the past week directly from the coastal path. Then, just twenty-minutes later, they spotted a pod of seven common dolphins who, to the joy of the visitors onboard, proceeded to bow-ride their boat!
Sea Watch Foundation is a national charity working to improve the conservation and protection of whales, dolphins and porpoises in British and Irish waters. With cetaceans being at risk of declining populations and even local extinction due to continuous threats to them and their habitats, we are working even harder to monitor and protect these incredibly intelligent marine mammals with which we share our oceans.
 Sea Watch is the holder of the largest database of whales, dolphins and porpoises in Europe. Its work helps develop effective conservation measures with governmental and international organisations, and to raise awareness of the threats facing UK marine mammals.
Kirsten is hoping that their next Information Board will be erected in Looe, and has submitted plans to the Looe Harbour Master's Office for review. She says, "If any local businesses or persons feel they can make a small donation towards our new endeavour, then please contact me directly. We are keen to join forces with local companies and are very happy to add names and logos to our boards."
Sadly, since writing this article, Chris Dauncey, has passed away. Chris was a wonderfully warm and generous person, who will be greatly missed in the village, and we send our condolences to his friends and family. We will be adding a remembrance plaque to the Polperro board shortly.
To find out more about Sea Watch Foundation, and their award-winning membership scheme visit: www.seawatchfoundation.org.uk