Lumpy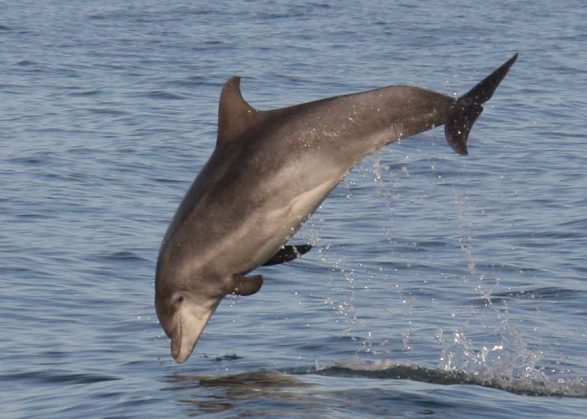 Lumpy
Lumpy is the son of our adoptable dolphin mum, Smoothy, and stars in our children's book, The Magic Dolphin. We have known him since he was born in 2006, and have followed his progress ever since! He can be recognised by his unique fin shape – tall and curved with a lumpy trailing edge and two small nicks. Although he has long since left his mum, we still see him checking in with her (and his little sibling Dipper) once in a while. He seems to favour southern Cardigan Bay and often approaches our boat for a bit of bow-riding when we head down that way!
Ghost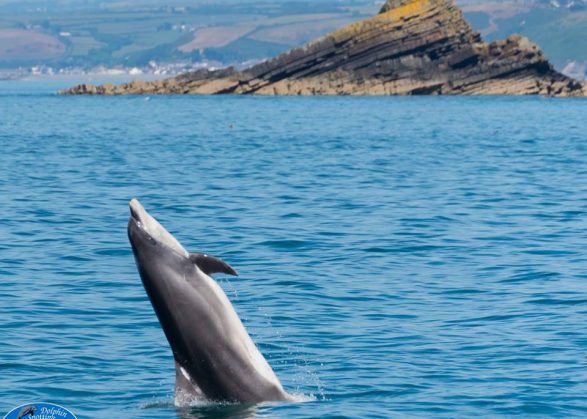 Ghost
Ghost was first seen in 2006. We recorded her as 'unknown gender' until 2015, when she was spotted with her first calf Caspar, who sadly passed away the following year. She was added to the catalogue as an adult so was at least nine at the time she was first seen with a calf. Ghost is often seen with Berry and her calf Luna. Ghost has been spotted all around Cardigan Bay and North Wales, but in recent years seems to prefer Cardigan Bay SAC, where she often hangs out with her calf Summer. Data indicates that a lot of new mums and calves move to Cardigan Bay SAC, suggesting it's a particularly favourable environment for them.
Tigger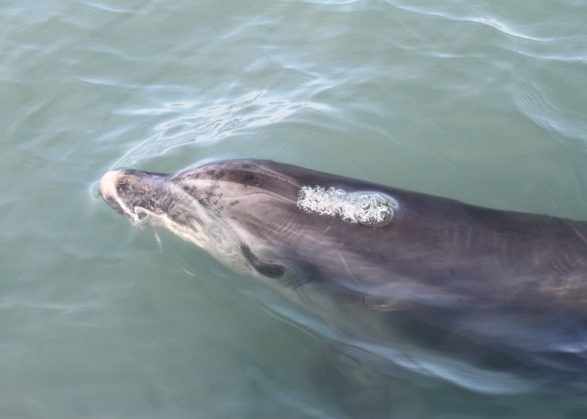 Tigger
Tigger is one of the stars in our children's book, The Magic Dolphin, where he gets into all sorts of trouble with best finned friends Lumpy & Button. He loves his mum Chris, and stayed with her for a whole seven years before striking out on his own when all his friends left their mums at around three! Now Tigger enjoys hanging out with his friends Lumpy, Frodo, Dumbledore and Brimstone around New Quay. They have lots of fun together and like to show off to the dolphin watching boats!
Voldemort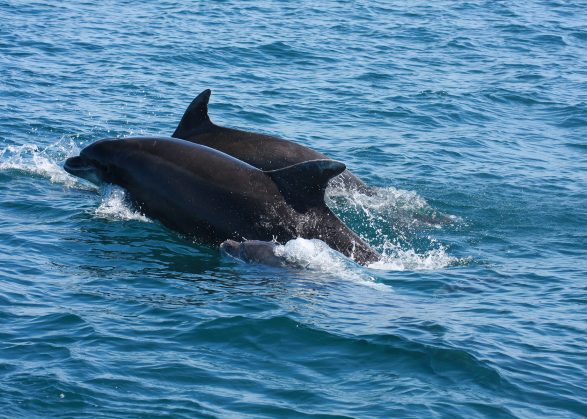 Voldemort
Named after one of the most notorious villains in recent literature, our Voldemort (or You-Know-Who for the fainthearted) is rather less terrifying to his bottlenose dolphin companions than his fictional counterpart – although being a big, impressive male he may still seem rather intimidating to the harbour porpoises that frequent Cardigan Bay! He has been in the area for well over ten years and is very sociable often being seen in groups with females and calves, and sometimes even looking after the calves while the mums are off foraging for fish!
Graham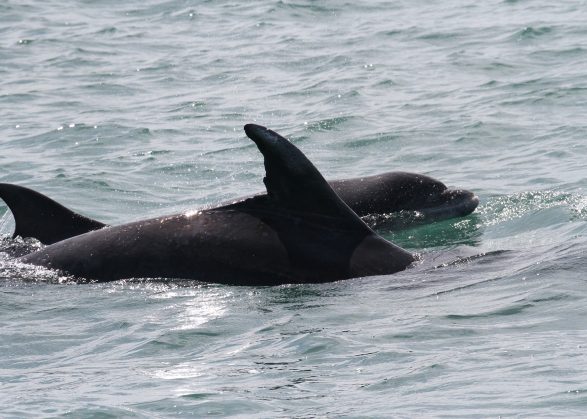 Graham
Graham is a long-time Cardigan Bay resident, known to us since 1990. He is readily recognisable by his rugged looking fin with a distinct deep V-shaped notch at the base. We often see him socialising with small groups of boisterous males or sociable females, showing off with spectacular leaps out of the water, but he also seems to enjoy some time alone and can often be spotted hanging out and feeding around New Quay pier.
Flint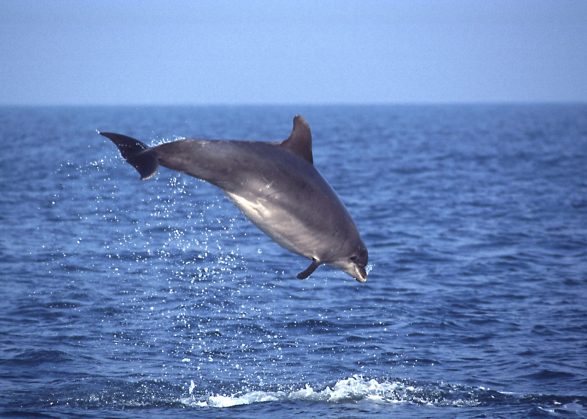 Flint
FLINT is known for his fantastic leaps and acrobatics. As the picture shows, he looks great when he's performing. Flint has a distinctive pattern of nicks on his fin along with some tooth scratches making him easy to recognise. In recent years, he has spent a lot of time in northern Cardigan Bay.
Berry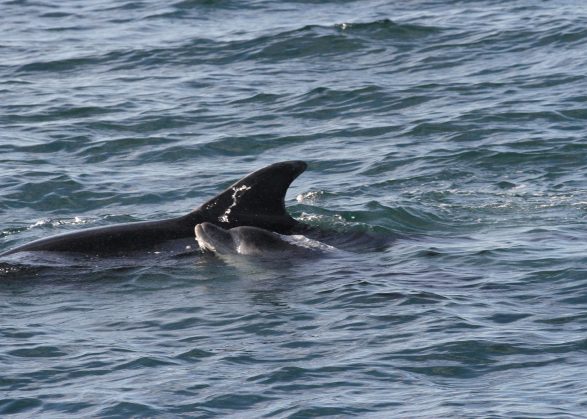 Berry
Berry is a New Quay dolphin mum we have known from when she was only a small calf herself, accompanying her mum, Wendy, back in 2007. Since then Berry has had her own calf, Pip, in 2014 and we often see the two of them playing and feeding around New Quay with other mums and calves. She has a perfectly smooth fin, unmarked by nicks and notches, but is easily recognisable by white markings around the tip of the fin and the trailing edge.
Where does my money go?
Every penny we receive through our Adopt a Dolphin scheme goes solely towards the research and protection of the bottlenose dolphins of Cardigan Bay. Our data are also used by the government  authorities to help manage this unique habitat to ensure it remains a safe place for this very special group of dolphins for many years to come. As an adoptee, you are making a choice to become a guardian for the UK bottlenose dolphin.
Your dolphin pack includes: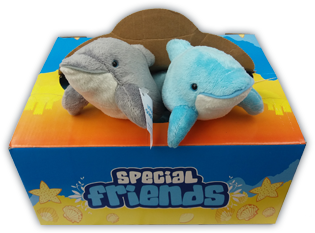 A special Adoption Certificate and a very cute cuddly toy which looks just like me!
Exciting monthly Newsplash E-Newsletters packed full of UK dolphin news about me and my friends!
A double-page Sea Watch Fun Times Activity Sheet!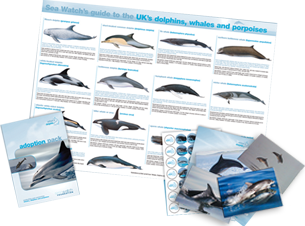 Four high-quality Sea Watch Postcards that you can frame or send to your friends!
A huge poster, loads of stickers and a pod of dolphin facts in a booklet about my friends and … me!
And your very own Dolphin Spotting Boat Vouchers!


Plus:
You will receive your own VIP password to the Adopters Area of the Sea Watch website where you can:
Find out where your dolphin has been swimming using your own dolphin tracking map
Sharpen up your whale & dolphin species ID skills with our e-guide including fact files, maps, videos, audio clips & more..
Download a dolphin friendly screensaver or, if you're feeling brave, the killer whale screensaver!
Play a game and see how dolphin friendly you are in the Sea Watch competitions!
Are you a school?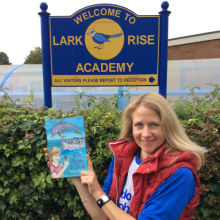 The Magic Dolphin is a wonderful children's book encompassing everything an animal lover craves - strong animal characters, excitement, fun, real behavior, and accurate scientific information from the marine biologists who study them. So, what better way to learn about dolphins and the marine environment than to invite The Magic Dolphin into your classroom (or even better come to visit us instead!)